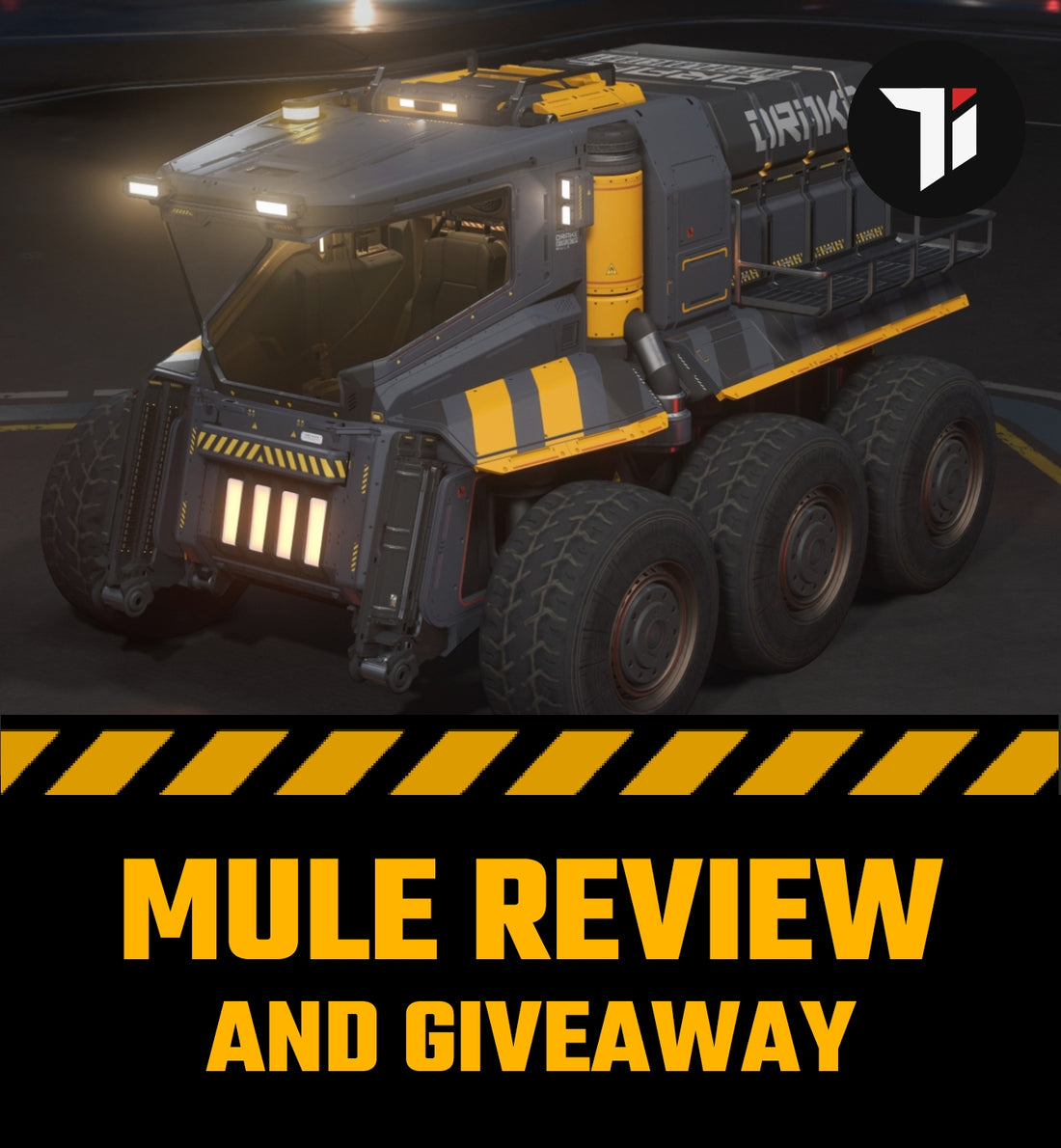 DRAKE MULE REVIEW + GIVEAWAWAY
A wise man once said:
"Give a man a box and he will carry the box for a day. Give a man a Mule and he will move six boxes and two crates in a fraction of that time." I can't argue with math or the wise man so I've bought a Drake Mule and tested it extensively against various challenges that the Star Citizen universe threw at me. The Drake Mule proved up to the task and it has earned a place in my fleet. I hope I will be able to convey why in this short review. 
We are also giving away one Mule to celebrate reaching 100 Discord members. 

Details of this giveaway can be found at the bottom of this post.
External Appearance 
For many of us, the external appearance of vehicles and ships is a definitive factor when it comes to deciding if we want to purchase an item. Ships like Origin's 600i, 85x or m50 are not only supposed to work well but also look good while they do it. In the case of the Drake Mule, the looks are more industrial than Origin's lineup but it's external shape as well as internal components are focused purely on the task that it was designed to do - move boxes.  


 

Even though it's very utilitarian in nature, Drake clearly put a lot of thought into binding the whole vehicle together with well fitted parts and cleverly placed features. It's enclosed cabin is spacious and provides great visibility to the driver. The railings on the sides allow you to securely store small boxes while the more fragile cargo can be put inside the Mule. The forklift on the front makes moving larger boxes extremely easy and convenient thanks to it's mag tech feature. All of this is enclosed in a very compact body with lot's of easy to access component hatches and additional equipment storage. 
Tiny Protector
Mule is small enough to fit into most ships and vehicles while maintaining a fully enclosed cabin with life support for the driver. This makes it the only vehicle that can fit in ships like Cutlass Black that also allows the driver to survive in harsh environments such as those found on Aberdeen or Arial without the bulkiness of a Pembroke suit . This makes it extremely useful in many scenarios where you need to go into a hazardous environment to retrieve some items but you are unable to fly there in a larger vehicle.





For example, you might need to access a small cave that's full of corrosive fumes which will eat through your armor in no time. Thanks to Drake Mule you will be able to travel through it without a problem - of course you might need to repair your little companion after the trip, but you yourself will survive without a scratch.
No Drifting
Do like racing? Do you enjoy drifting on Daymar dunes? Well Mule does not, and it will quickly show you by making the world go upside down. Since Mule was made purely to carry cargo and fit into as many ships as possible, it's quite tall and easy to flip.


It's 6 wheels allow you to traverse most terrains with ease and carry even the heaviest loads efficiently but it was not made for racing or driving fast on the rocky surfaces. From my testing I found that Mule is surprisingly good at climbing steeper hills and excels at driving in a straight line, but you need to be very careful when it comes to sharp turns. 
Tougher Than You Think
 Mule is not only great when it comes to protecting you from environmental hazards but we've also found it quite resilient to various weapons. Instead of carrying a crate in Cyclone and risking getting shot, it's much better idea to carry multiple crates and boxes with Mule and being fully protected by a sturdy canopy. We've tested various weapons, from pistols, through rifles all the way to the railgun - of course Railgun one-shot Mule each time (it can even one-shot ships sometimes) but anything else was no issue for Drake Mule, at least in moderate amount ;)


Conclusion
So should you get a Mule? If you need a small cargo vehicle that can fit into most ships and protects you and your cargo from the environment then yes, the Drake Mule is a perfect choice for you or your org. Looks don't matter if the vehicle can't get the job done. Personally I plan to use mine with my 400i that comfortably fits the Mule  inside it's garage. 
🎉 Giveaway Info - Win LTI Mule 🎉
Since we've reached 100 Discord members we wanted to make a little contest!

The rules are very simple - head over to our Discord server and post a screenshot or a concept art photo of your favourite ship or vehicle. Make sure to post it in our #screenshots channel. We will choose the winner randomly at the end of the month from all of the entries!